---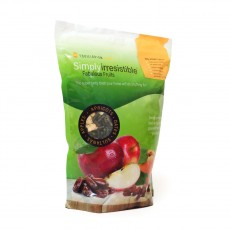 Equilibrium Simply Irresistible Fabulous Fruits
Equilibrium Simply Irresistible Fabulous Fruits Feed Tooper is a healthy and delicious blend of natural fruits rich in antioxidants with added probiotics, designed to liven up mealtimes, feed as a treat and support a healthy gut. Can be sprinkled on top of hard feed, chaff or forage to add flavour and variety to dull everyday feeds. Feed with medication, wormers or supplements to make more palatable...
Equilibrium Vitamunch Soothing Summer
Equilibrium Vitamunch Soothing Summer is a handy healthy snack, crammed with goodness to make summer more comfortable for your horse… naturally. Vitamunch snacks are based on top quality Yorkshire Timothy grass that has been carefully dried at low temperature, packed with selected vitamins, minerals and herbs & sealed in a 1kg packs – perfect for competition days, as an in between...
---