---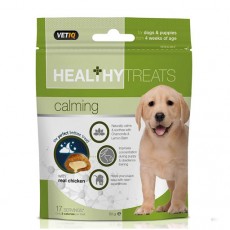 VetIQ Healthy Dogs & Puppy Treats (Calming)
These scrumptious treats calm and soothe puppies to help reduce anxiety during stressful situations, including settling into a new home, training, travel, grooming, staying in kennels, separation anxiety and noise phobias. An ideal treat for reward-based training as they can help to improve concentration during puppy and obedience training. Contains lemon and chamomile, with a chicken flavour.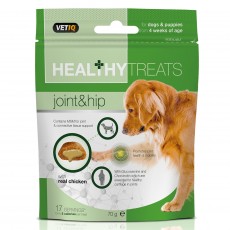 VetIQ Healthy Dogs & Puppy Treats (Joint and Hip)
These scrumptious treats contain a unique blend of glucosamine, chondroitin and MSM which help support and maintain flexibility and mobility in joints. Help to support joint health and strengthening of connective tissue and contain essential ingredients for healthy cartilage in joints. With a tasty chicken flavour.
---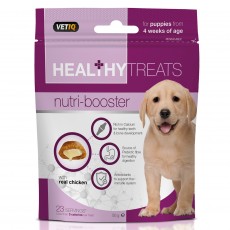 VetIQ Healthy Puppy Treats (Nutri-Booster)
These scrumptious treats have been developed with lots of care and attention by animal nutritionists. Comprising of a dry outer shell with a cream filled centre containing lots of natural goodness for healthy, happy pets. They are rich in calcium, prebiotic fibre and anti-oxidants for the best start to a puppy's life.