---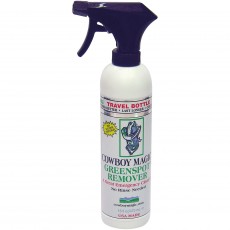 Cowboy Magic Green Spot Remover (16oz)
Instantly removes fresh manure, urine splash, sweat lines and trailer buff after transportation. Spray-on, massage vigorously and wipe off with a clean, damp towel. No water rinsing needed. Great for cold weather grooming.
Cowboy Magic Super Body Shine (16oz)
Cowboy Magic Body Shine/Dust Control is formulated to reflect a spectrum of natural light resulting in a maximum body shine under sun or show ring lights. Puts a wonderful high shine on both hair and feathers. - Repels airborne dust and dirt - reducing grooming time and maintenance - Natural Aloe Vera ingredients help maintain healthy skin - Concentrated and ready to use - Long-lasting life -...
---
Cowboy Magic Yellow Out (16oz)
Shine In Yellow out™ neutralizes yellow stains and brightens hair of all colors. Black, White, Chestnut, Bay Brown, Roan, Palomino, Paint Benefits: There are benefits for both horse and human. Shine In Yellow Out™ takes yellow stains out of hair and gives dull hair of every color a more brilliant sheen. It leaves hair silky, shiny and smelling good. Directions: Apply to wet hair, massage...